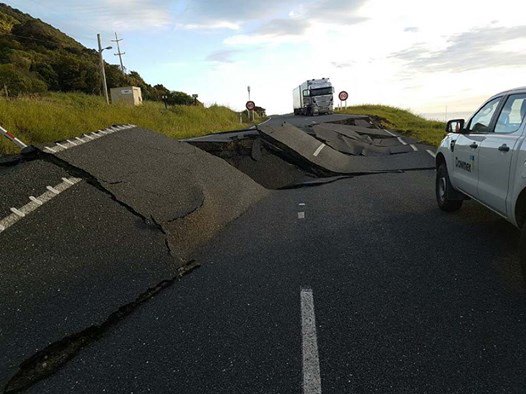 Damaged road, South Island - NZ Transport Agency
We were off-air for over 12 hours earlier today after a 7.5 magnitude earthquake struck the South Island of New Zealand near Hamner springs at 12.02am NZ time. Our studio is based in Wellington but the power was cut for most of the night and we temporarily evacuated after hearing Tsunami warning sirens at about 2.30am. Tsunami waves ended up being 2m - 5m and were not a threat to our area in the end.
There has been damage to buildings in Wellington and the South Island and 2 people are known to have died as a result of the earthquake and aftershocks around the country. Currently there is damage to Ferry wharfs in Wellington and Picton so at this stage no Ferry's or trains are running but luckily there are barely any reports of people being injured.
The moon is the closest it has been to the Earth in about 60 years over the next couple of days...will there be quakes in other parts of the world? It pays to be prepared with spare water and food, torches, battery radio's etc.