Groove will be featuring music from WOMAD 2016. Here's our playlist:
47 Soul - Intro To Shamstep
47SOUL
is an electro-mijwez, shamstep, choubi band.
The members are rooted in Bilad Al-Sham, spanning the divides from Amman to the Galilee, the Golan Heights to Ramallah. This new sound of 47SOUL has rapidly amassed fans in the Middle East and Europe by blasting the electric Arabic debka sound through underground music scenes.
Overcoming physical and logistical challenges, they came together to play electronic Palestinian street music. 47SOUL writes and performs to speak about freedom of movement, whether that's sparking new dance styles or singing about breaking down border check points. For the past 2 years the band has based itself between Jordan and the UK, to spread their new wave of Arabic music.
Their sound is rooted in Arabic Dabke, the celebration dance music from the Bilad Al-Sham area; the name for the land that spans Syria, Palestine, Lebanon, and Jordan. 47SOUL hypes it up with analog synthesizers, drum machines, epic guitar lines, and tripped-out English and Arabic verses from the four singers. The electronic and urban influence in their music takes them far out of the 'world music' context and places them in the genre of a new generation of international electronic/hip hop acts that are reinventing the old for the future. This new sound of 47SOUL is called ShamStep.
Calexico - Cumbia De Donde
Calexico is a Tucson, Arizona-based Americana, Tex-Mex, indie rock band. The band's two main members, Joey Burns and John Convertino, first played together in Los Angeles as part of the group Giant Sand. They have recorded a number of albums on Quarterstick Records, while their 2005 EP In the Reins recorded with Iron & Wine has reached the Billboard 200 album charts. Their musical style is influenced by traditional Latin sounds of mariachi, conjunto, cumbia, tejano, as well as country, jazz, and post-rock. The band has been described by some as "desert noir", and is named for the border town of Calexico, California.

Diego el Cigala - Cancion De Las Simples Cosas
Diego El Cigala is, quite simply, the most exciting and innovative flamenco singer in the world today. Passionate, profound, and immensely proud of his Spanish gypsy heritage, El Cigala has been called "the Sinatra of flamenco." His earthy and exultant and richly emotive voice marks him as one of the great singers of the last century. He is also one of those rare crossover artists who has stayed true to his musical heritage yet achieved name recognition with mainstream audiences around the world.
Born into a family of flamenco musicians, El Cigala began his solo career in 1997. A mere four years later he was at the Latin Grammys, his Corren Tiempos de Alegríanominated for Best Flamenco CD. That was just the beginning of much bigger things to come, as a small initial collaboration on that CD between El Cigala and legendary Cuban pianist Bebo Valdés led in 2003 to a duo CD, Lágrimas Negras (Black Tears), that became one of the most astonishing breakthroughs in the realm of world music. Aside from winning El Cigala his first Latin Grammy (he now has three), Lágrimas became a huge global hit thanks to a combination of killer live shows, rave reviews, and ecstatic word of mouth. This groundbreaking disc, with its fusion of gypsy fire and complex Cuban rhythms, sold more than a million copies worldwide. Aside from winning numerous awards, the CD was fawned over by Britain's BBC Radio and hailed "record of the year" by the New York Times.
This was unprecedented success for a flamenco singer – and it was to prove just the beginning. El Cigala won his second Latin Grammy in 2006 for Picasso en mis ojos(Picasso in my eyes), which also became a bestseller. Then in 2010 El Cigala travelled to Argentina, land of the tango, to immerse himself in that country's powerful musical traditions. After merging his own band with two of Argentina's tango masters – bandoneonist Néstor Marconi and guitarist Juanjo Dominguez – the results were, once again, musical magic. Cigala & Tango won a Latin Grammy for Best Tango, and went on to generate fantastic sales, great reviews, and a sold-out tour that played to more than 160,000 awed fans.
El Cigala's newest recording, 2013's Romance de la luna Tucuman, offers a fresh take on the Argentinean tango tradition. Notable for the contributions of Mexico's famed electric guitarist Diego Garcia, known as "The Twanguero" for his embrace of cowboy, Hawaiian, and surf music, Tucuman went on to triumph at the 2013 Latin Grammys, winning El Cigala a third Grammy, his second for Best Tango. It is this landmark CD that will be the focus for El Cigala's upcoming tours through the United States, Europe, Australia, and South America.
Edmar Castaleda trio - Sabroson
Not unlike other exceptional musicians who have transformed their lives through art, Castañeda's journey has humble, inspiring beginnings. The son of a musician and a mother who nurtured Edmar's obvious natural talents, he embraced the noble folkloric traditions of his native Colombia. The joropo dance classes he attended with his sister were a masterclass in movement, accompanied by the harp. In the mid-1990s, he moved to New York, and studied jazz trumpet, before returning to the harp. Today, on stages all over the world, it is remarkable how Edmar's body engulfs his Colombian harp as he crafts almost unbelievable feats of cross- rhythms, layered with chordal nuances to rival even the most celebrated flamenco guitarists, and an incredible blend of musical influences.
"His music draws on the traditional joropo music of the grasslands he absorbed early, as well as tango, Brazilian and flamenco guitar, West African kora and virtuoso jazz pianists like Art Tatum. That's a fascinating mix, but his technique is the real astonishment. Castañeda juggles lead, rhythm and bass lines, using a variety of hard and soft string attacks to keep those voices distinct — all without giving up the groove." - NPR Music
"The Colombian plays the harp like hardly anyone else on earth. His hands, seemingly powered by two different people, produce a totally unique, symphonic fullness of sound, a rapid-fire of chords, balance of melodic figures and drive, served with euphoric Latin American rhythms, and the improvisatory freedom of a trained jazz musician...captivating virtuosity, but in no way only virtuosity for its own sake." - Frankfurter Allgemeine Zeitung
"Mr. Castañeda strummed, plucked, rubbed, jabbed and pounded on his cobalt blue Llanera harp as he conjured different shaped notes, harmonic textures and steady bass rhythms from the instrument's 34 strings. About the only thing he didn't do was light it on fire." - Wall St Journal
Edmar Castaneda was born in 1978, in the city of Bogotá, Colombia. Since his move to the United States in 1994, he has taken New York and the world stage by storm with his virtuosic command of the harp - revolutionizing the way audiences and critics alike consider the instrument. A master of beautifully complex timing, lush colors and dynamic spirit, Edmar has been called "almost a world unto himself" -The New York Times.
Rada is currently working on her debut album, after releasing her acclaimed first self-written and composed solo EP "Life Happens", which was produced by Israeli producers Kuti (Kutiman/Thru-You) and Sabbo (Soulico), at the beginning of 2013.
She gained worldwide popularity on a tour across Europe, the United States and Canada. She has recently performed at the Glastonbury Festival. She performed at the opening act of Alicia Keys' concert in Israel. Her music video "Life Happens" has been broadcast on MTV France, East Europe, and Israel, as well as on VH1 UK. Rada credits Nina Simone, Ella Fitzgerald and Aretha Franklin as her musical influences, alongside Eryka Badu, Lauryn Hill and Jill Scott.
Hazmat Modine - Up & Rise
Hazmat Modine is a blues/folk/world /jazz musical group from New York. "Hazmat" is a portmanteau of "hazardous material", and "Modine" is the name of a company that manufactures commercial heaters but may be used to refer to the heater itself.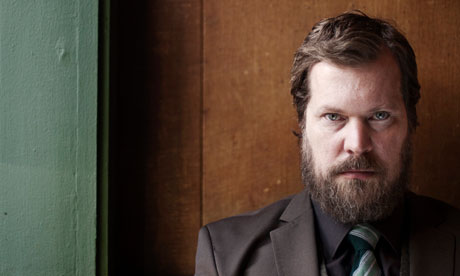 John Grant - Grey Tickles, Black Pressure
John Grant is an American singer-songwriter. Formerly associated with the Denver-based alternative rock band The Czars in the 1990s and early 2000s, he launched a career as a solo artist in 2010.
St Germain
is the
stage name
of
Ludovic Navarre
, a
French
musician. His style has been described as being a combination of
house
and
nu jazz
music.
Navarre's album
Boulevard
was released in July 1995 and has sold over 1 million copies
worldwide. His
United States
debut,
Tourist
, was released in 2000 and sold 300,000 copies in the USA and 4 million copies worldwide.
Bob Marley
,
Toots & the Maytals
,
Miles Davis
and
Kool and the Gang
are among Ludovic's early influences. He composed his first work under the name of Sub System with friend
Guy Rabiller
. He has released EPs under a number of aliases, among them Deepside, LN'S, Modus Vivendi, Nuages and Soofle.
St Germain is not associated with the
Saint-Germain-des-Prés Café
compilation series, though his song "Deep in It" is featured on its "Volume 1".
His song "Rose Rouge" was featured in the official movie trailer for
Joss Whedon
's 2013
Much Ado About Nothing
.
His eponymous album, released on 9 October 2015, was recorded with the participation of African musicians, the album features traditional Malian instruments such as kora, balafon and n'goni, that mingle with electric guitars, pianos, saxophones and electronic loops. The first single, "Real Blues", sets the voice of Lightnin' Hopkins to the beat of wild, fiery drums and percussion.
The original single sleeve is decorated with a 3D mask conceived by Urban Art creator Gregos, known for his smiling and frowning faces stuck on walls throughout Paris and Europe.
St Germain is included in the line-up for Coachella 2016
To check out more :
www.womad.co.nz